Family holiday trip to Japan (Hokkaido!)
Night flight from Changi to Tokyo, Tokyo to Hokkaido!
I'm not going talk alot like my Australia post because,
we join and went with the tour.. so basically i just
I can't remember where i went and the name of all t
he places..
So, let the photo do the talking! :)
Let me start my trip photos here..
Leaving house with all the luggages..
So so so many of our luggages!
Boarded the plane at about 10pm..

Ohgosh theres a uncle behind keep on trying to get into my photo..
Breakfast is here!

Some white wine & crackers right after our meal!
(Annoying uncle behind, ignore him)
I think this pic looks great except for the extra!
Mirror at the toilet before alighting the plane..
Immediate check in right after reaching Tokyo..
JAPAN DOME CONX!

I wont get sick of this cover!

Waiting to board the plane again..
So tired that i would have to get some coffee!
I love Japan airline!

Another Japan airline plane opposite us!

Not long later, it's about time to take off!
Flying up high!

Bye
Heading towards Hokkaido!
Guess what's happening below?!

.
.


when i woke up from my short nap..
discovering we're already in Hokkaido's land!
It's a big different from Tokyo..
It's fully covered with snow!
Beautiful, really beautiful..
Can't stop looking at the land fully covered with snow!
Landed at Hokkaido!
Beautiful..

Yes, thankyou.. welcome to Hokkaido.
after landed at Hokkaido!
Got up out tour bus immediately..
& set off with our schdules right away!
Went to a outlet to shop!
(omg it look so like harbor town!)
It really look so like Harbor town!
Oh yes, the first snow we encounted!
it started snowing suddenly when we're shopping around the place!
Bought myself a expensive highcut!
Back up to our tour bus, set off for lunch!
Our first Japanese meal of the trip!
View from the restaurant..
The almost sunset sun & the frozen lake!
So beautiful.. everything is so wonderful here in Japan..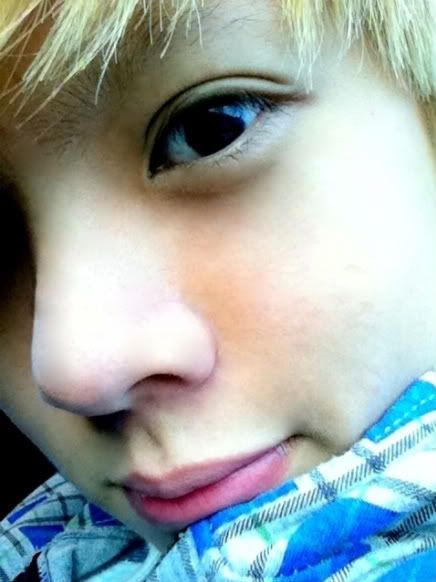 Can i just say i just love this photo alot! :D
The street looks so comic..
Here we are at Japan's Daiso!
Went shopping at Daiso! muaha!
Some bad owner throw the pet in the car!
After a long day, we're heading to our Hotel!
Changed into Japanese traditional clothes right away for dinner!
Don't mind me, spamming some photos of myself here! :p
Prawn & crabs! omg yummy!
Dig in, let's all dig in!
Parent & my relatives busy eating already!
Who looks better in Japan traditional clothe?
Ahahahah! took a picture after our dinner!
Chill a lil after our dinner & went hotspring!
I love sleeping on floor..
If only i have tatami, i don't need a bed!
After my dinner & hotspring..
I went out to the streets myself,
& to 7/11 to get some things for myself to munch on..
Walking on the quiet street, with the snow falling all over the place..
Feeling so good & bless! Back to hotel with the mochi ice cream i love'd!