Waiting for public transport!
Love this two pics! (me only!) HA!
Central Street's bus stop where we always set off from!
Was in the bus, saw domino's! always wanted to have it ther!
Passing Some of these places everyday!
Dropped at Teddeh ave, changing bus!
Along the road of Teddeh!
Our daily bus ticket for the day!
Oh gawd! It cost $13.40 AUD!
Got emo'd because the tixs is so ex!
ha, joking! lil shagy during the morning!
Tatata, after a 30mins plus ride we finally
reached out destination! Worried if we get lost so i took
this picture to recognize the bus stop! hehe.
(I'ma kinda feeling excited to see all the wildlife!)
Yay now that's the real entrance!
Get close to Wildlife Currumbin Sanctuary @Goldcoast Australia! :D
Birdies are the first animal we saw!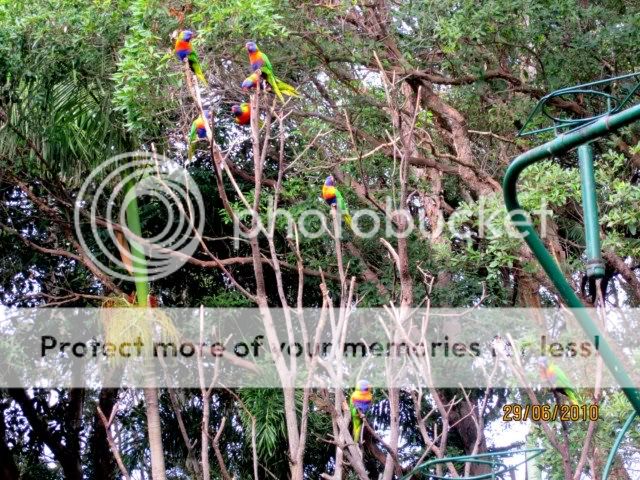 Okay, i dont know what it;s called..
Some really beautiful colorful birds!
Many school kids visiting on the same day! cute!
Got the entrance chop-stamp! :p
Okay, this is the schdule we are here for!
We've tried out very best to rush for all the shows!
But still missed out some of them, but at least
we visited those we really wanted to see! :p
(missed out one are not really interested!) hehe.
My first time seen a live Koala on my 18s!
It was still very early when we got there!
Hehehe, took my first ever picture with Koala bears!
Opps, flash lights woke them up!
Now, they're looking at us! HAHA!
We fled from the Koala base!~ xD
Heading to another place! hoho!
My turn, i'm riding on the big croc!
He loves me! tsk, he's showing his big nose! :S
There's another big croc after we entered 'Wild Island!'
>
Boo boo, mini train coming through!
So paiseh, they were all looking at me when im taking this pic!
Ok this is something really cool!
No idea what is this weird tall big birdy LOL.
But it's really beautiful!
Some pig look alike animal LOL!
I think i suck! i cant remember those animal's name! :(
Exploring the super big forest!
Getting to our next stop!
A live free-flight birds show @11.30!
Managed to reach on time! hehehe.
It's really a free flight because! they all came flying to the
spot wher performances held at! clever!
First up it the Pelicans!
Cant remember thee name for this as well.
But it's a eager look-alike!
Showing us how clever they are to eat a raw egg by their peak!
A most common parrot seen!
It this is a really big size one!
This bird is lazy, they told us she only go back to her place
if the person incharge send her back! *cute*
My first time see-ing a live eager as well!
The bird shows ended there! it was good! *clap clap!*
I did touch the komodo dragon like those cute kids up there!
I asked him to pose a picture for me & he did!
Guess what's this?! It will goes like beep beep beep
when your things are ready for collection!
isnt it cool! so they dont have to send it to us!
It's good if we have it here, so people
dont get lazy sitting and waiting to be served!
Tada! my lunch for the day!
Their fries is always the best thing! loves loves!
Heading to another Koala base!
Lots of cute Koalas again! :p
These Koala are more active than the one we seen at the entrance!
Guess what's this Koala trying to do?!
Okay i missed what he did, he came down to the ground
for food! because person in charge left fresh food there!
Picture with Koalas again! :)
Some are smelling each other's butt! HA!
LOOK! He showed me ''bleah'' faces!
End of Koala for the day!
Many many ducks all around!
Came pass by to this really big Alligator!
It's about 3times of a average man's height! how big it is!
We're so far away to the alligator for our safety because it's deadly!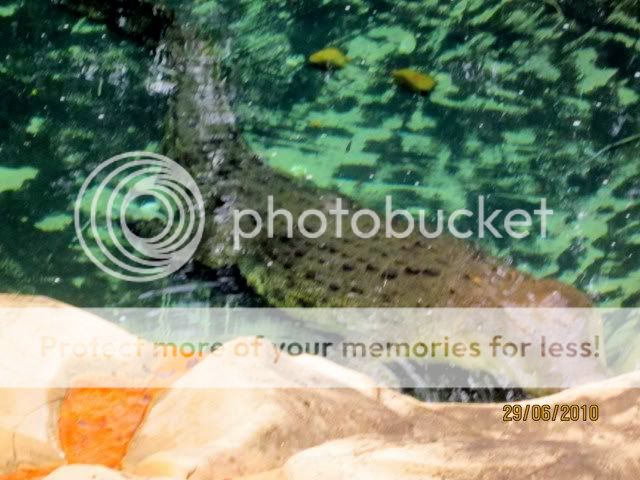 A zoom'd in photo of the alligator!
This is the thing that i've been looking forward to!
Even more than Koala bears! I should say i came here because of them!
Cause i wanna see them live! What it is? It's KANGAROOS!
But that's only gonna show at part 2! so stay tune! ^^