Woke up early in the morning to get prepared..
Antene came by to our place to fetch us,
and we head out together!
Reached our destination, looking for a car slot.
Walking around, finding something for breakfast..
Nice shops, look like billy bomber!
Their NTUC place.. fruits area!
And there's this self check out counter!! so cool!
Queuing for my stuff (guess what i bought! HAHAHA!)
Hahaha, secretly came into my pictures behind!!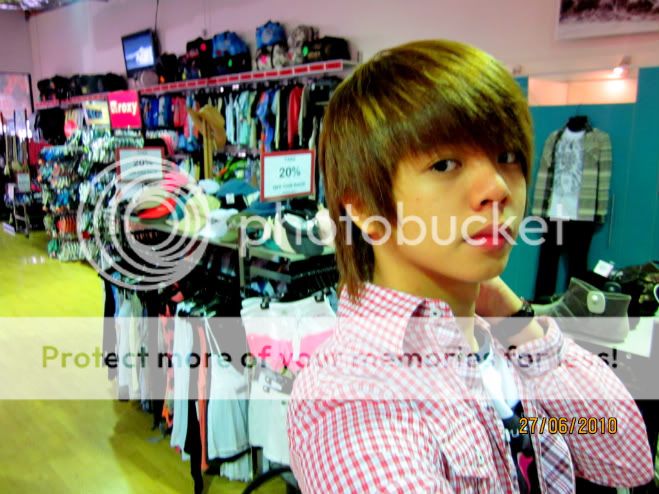 This was so candid! the train came over blocking us..
but it turned out to be like this!! haha, nice!
Muack from me! I love my sunglasses!
Bought some tees for myself! haha! *happy*
Last photo before we leave harbor town.
Leaving harbor town, had sushi train for lunch..
And Antene send us back to our place for work i guess.
Going out ourselves to buy some groceries..
Checking out neighbourhood around too!
hehehehee! damn fresh air!
Beautiful places just outside our place..
Heading into neighbourhood area..
I discovered their local car brand!
Saw a super big christmas tree!
Look! in aus, theres this land at the side most of the roads..
Drivers can move into this lane anytime to park to do their stuff
or pick up calls, sms.. and its even safer for human being walking in here..
Was actually wanted to cross the bridge..
then saw interesting so we headed left <--------
Here here we are!! pictures taking!
Really nice weather with warm sunnlight!
Looks! bunchs of pelicans! there's so many in aus!
Came by to this big grassland..
We then started to take pictures of ourself! jumping around!
Okay, my version gonna be funny!
Kinda retarded but its funny! HAHA!
Ow, thats a nice pose! my favorite of Daniel's!
Daniel's lousy taking skill!
LOL THIS IS FUNNY! (RE-TARTED!)
Ow, i like this! my favorite!
Pelicans again!! nice photo isnt it!
Walked over to the beach! The smell of the sea!
Found a really interesting tree.. that one which looks like in Avatar!
Pictures, pictures, pictures! :)
Trying to imitate my pose!
But i still do it better! :p
(Yes, yes.. my big picture above!)
Really kind people, i was taking photo of them actually..
They saw me, and shouted : HELLO! and hi to me! hahaha! :)
Chasing this unknown bird..
Random people want to take photo with us!
Looks like a hundred years old big tree!
Heading back after our picture taking and we got our stuffs..
Sun's going down slowly.. uber beautiful!
Got back, prepared and heading to Surfers!
Picture taking while waiting for public buses!
>
Super cute white lil boy so into thee korean street magic show!
Again, visited the beach.. but it's night time.
Had Hungry jack for dinner!
Visited Quicksilver shop!
Bus back to our place.. thats it for that night!
Remember to click on my ads/nuffnang!
Next up, movie world updates!